Diamond Solitaire Earrings
look really great on you. This is an eternal piece of jewelry that can bring happy accolades among work-colleagues, college buddies, neighborhood friends and school mates. The solitaire stone stands out, emanating a superlative degree of radiance and charm. These are 4 varieties on diamond earrings from Sachs Jewelers:
2 Carat Diamond Solitaire
This is an astonishing pair of ear studs, you will fall head over heels in love with. A pair of a whopping two carat diamond stones are used in the making, to make this jewel set a timeless beauty. You can wear the earrings if your wedding day event is just round the corner. Else wear the dazzling ear studs for an opera rock show event. You have an incredibly stunning 14K white gold setting with supporting back screws.
Diamond Circle Earrings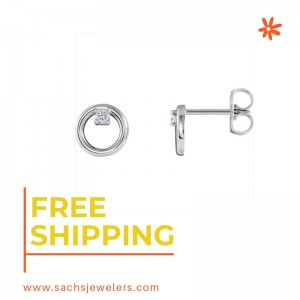 Create stylish vibes with the all-new pick, on diamond ear studs. Around a circular enclosure, you have a 0.06 diamond solitaire stone that unveils magic. This is a diamond circle earrings that comes to you at an affordable price-range. It is the mystical 14K white gold polished metal that is used, while having the jewel-piece designed. You also have supporting screws at the back.
Diamond Baguette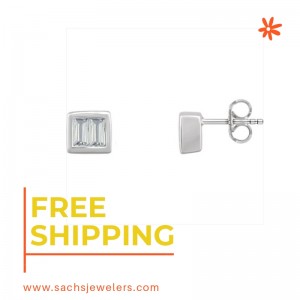 You can style up
Diamond Solitaire Earrings
with a floral top and a long skirt. You appear stylish at late-night glitter party events. This is a diamond baguette solitaire stone that adorns the central setting of the ear-studs. The stones weight 0.50 carats each. The white gold setting provides the ear studs with an impeccable finish indeed.
Halo-styled Studs
You can discover a petite halo style in this particular pair of ear studs. Across an enviable 14k yellow gold setting, you have a central stone adorned with clustered side stones. These weigh 5/8 CTW. With supporting back screws, the pair of earrings can never be a wrong buy, whatsoever. These are four stylish varieties of stud earrings, you can indulge with. Sachs Jewelers is a one-stop destination for getting those wonderful pair of earrings, pendants, bracelets, bridal jewelry and watches. The store is known for its impeccable finish on designs while offering you with a superlative product excellence. The retail store is located at Mashpee, MA while the online hub can be reached via
http://www.sachsjewelers.com/