Jewelry repair is a high skill. Some might even argue that it takes more craftsmanship to repair an item of jewelry than to design it. Whatever the case, sooner or later, you might have to get your jewelry repaired and it pays to know what goes into it. This post from
Jewelers of America
is detailed enough to provide you with the basics of jewelry repair. Fine jewelry is susceptible to wear and tear, so always have your fine jewelry checked annually by your jeweler. When repair issues do come up, this is a guide will help you get the best service. [caption id="attachment_173" align="aligncenter" width="238"]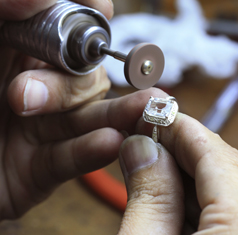 Jewelry Repair Services[/caption] If a jewelry store offers custom design work, most likely they have trained jewelry craftsman on site to perform repairs in house. Of course, there are items – like timepieces – that may need to have repairs done off site. Start by checking that the jewelry store is a member of Jewelers of America – so you know your jewelry is in skilled hands and the repair will be performed professionally and ethically.
Before You Go
It's always good to have a sense of the value of the piece for the jewelry store's insurance purposes. As with the custom design process, the jeweler will evaluate and give you a quote for the cost and time of the repair work. No work should be done without your permission.
Common Jewelry Repair Issues
In a good jewelry repair the repaired area has the same color, luster and appearance as the rest of the piece: No hammering or other tool marks are visible No visible seams from cutting and soldering, like in rings or chain repair Stones are tight and secure in their settings (channel, prongs, etc)
Resizing a Ring
If too loose or too tight, there are a few ways a jeweler can resize your ring: Cutting & soldering: A cut is made and metal is either added or removed to adjust the size to fit. Sizing should be done at the center of the shank bottom, unless there are quality marks or an inscription that precludes it. No seams should be visible when finished. Sizing beads: placed on the inside of the bottom of the shank, these accommodate slight discrepancies in size for a half size or less Spring inserts placed inside the shank adjusts to 1-2 full finger sizes.
Chain Repair
A chain after being repaired is never as strong as it was before it was broken. While most flat chain repairs are nearly undetectable, if the chain is very small, lightweight or badly damaged, there may be some stiffness in surrounding links after the repair is completed. Chains that are more difficult to repair due to their complexities include link chains, like rope and cable chains, and herringbone chains. Some jewelers may charge extra for these jewelry repairs.
Prong Repair
Constant wear of rings can cause prongs to wear and the potential for losing a precious gemstone to increase. Something as simple as exposure to bed sheets or gardening can affect prong strength. Depending on the severity of the prong wear, they will be replaced, re-tipped by adding a metal to the top of the prong, or replacing the entire prong head. When repaired, prongs match in size, shape and dimension. They should completely go over the crown of the stone, ensuring prongs won't snag clothing. Here are some frequently asked questions from the same post.
Can I take my jewelry for repair to a different store than where it was purchased?
Yes. Take it to any jewelry store you have confidence in that has the qualifications you trust. Use our JA Jewelry Store Directory to find Jewelers of America member jewelry stores near you.
How do I know I am getting my own diamond back after a repair?
When you work with a jeweler you trust, like Jewelers of America members, this shouldn't be an issue. Still, don't be afraid to mention your concern, most jewelers are happy to ease your mind. Some jewelers show the diamond to their client under a microscope to indicate that diamond's unique characteristics, which you can view again when you retrieve the piece. Some even take a picture of it. Like fingerprints, no two diamonds are exactly alike.
How can I tell if my gemstone or diamond is loose?
In between your regular check-ups at your preferred jewelry store, you can check for loose gemstones by touching them with a toothpick. If the stone moves, bring it to your jeweler for tightening.
My diamond is chipped; can it be repaired?
Unfortunately, there is no easy way to repair a chipped diamond. This is often a shock considering diamonds are one of the hardest materials on earth. However, if hit or dropped on the right angle it can splinter. If this happens, the diamond will have to be replaced, unless it is large enough to be recut. Make sure your jewelry insurance policy covers chipped diamonds in addition to loss.
Read full post
To keep your jewelry from getting damaged or ever requiring repairs, the Jewelers of America website suggest you take the following steps
Store your jewelry in a clean, dry place.
Keep your jewelry in a fabric-lined jewelry case, or in a box with compartments and dividers. If you prefer to use ordinary boxes, wrap each piece individually in soft tissue paper.
Don't jumble your jewelry pieces in a drawer or jewelry case. Pieces can scratch each other.
Be careful when removing your jewelry to wash your hands. Do not leave your jewelry on the rim of a sink where it can easily slip down the drain.
There are many types of small machines on the market that will clean jewelry in a matter of minutes using high-frequency sound. These machines are called ultrasonic cleaners and are available in many different models and prices. Your local jeweler can tell you if an ultrasonic cleaning machine is right for your jewelry wardrobe and, if it is, recommend an appropriate model.
Read full post
To get a more visual idea of what encompasses the process of jewelry creation and repair, watch the following video Get your
jewelry repaired and serviced
at
Sachs Jewelers
.