There are too many
jewelry brands
in the market for everyone to come to an agreement. When you want to buy something for yourself, the choice is easy. But when you want to buy something as a gift, you are naturally confused about which brand to go for. Even if you have a favorite brand already, or if you are clueless, here are tips you can use in either case:
1. Look for the mark
Look for the standard international standardization that helps you recognize the brand as an authentic and reputable one. Whichever it is in your country, always look for the mark on every piece of jewelry you buy.
2. Go by current reviews
A clear indication of a good brand is good reviews. Not just the ones on its own website, but ones on other forums. Ask a jewelry savvy friend about the
jewelry brands
you are considering at the moment. Real human reviews are mostly correct.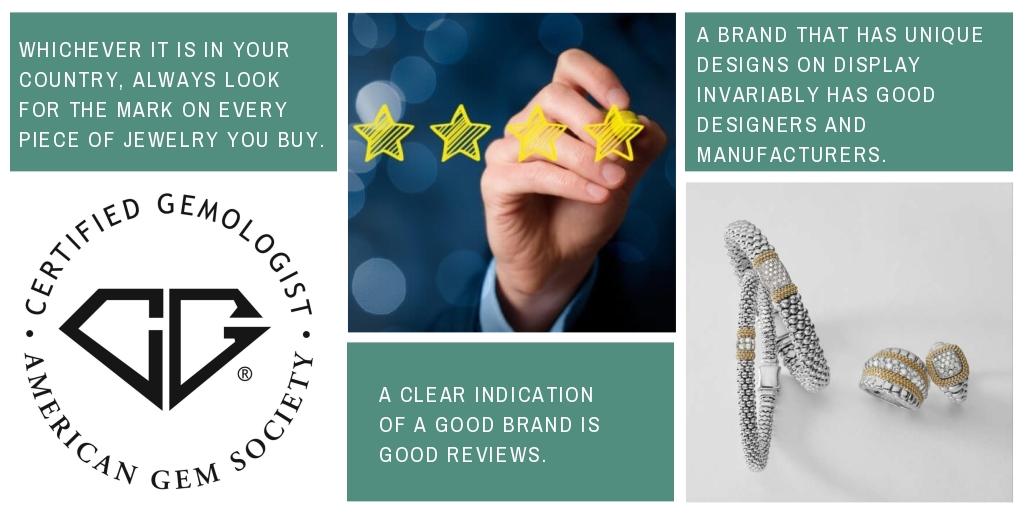 3. Dedicated staff
Many people prefer to buy their jewelry from shops that are reputed but not the most popular. You deserve the attention and patience that a jewelry seller gives at a well reputed jewelry store. A trait that all good
jewelry brands
have in common is good customer service.
4. Variety of designs
This goes without saying, but you should go to a store that has a wide range of styles and designs of jewelry. Whether you are looking for something old school, or something chic and modern, go to a store that offers a wide range of designs. A brand that has unique designs on display invariably has good designers and manufacturers. You can trust their jewelry to be made with latest technology and be more durable.
5. Go for the tried and tested
Old brands are the most reliable. They have the expertise and work ethic that got them so far through the decades. You can never go wrong with old
jewelry brands
in the market. But make sure you are going for a brand that has learned to evolve with technology and style. We automatically end up trusting
jewelry brands
that have a popular brand history that we all know about. We tend to avoid experimenting with what we don't know. Especially because jewelry is no cheap deal, we must go for a place we know is good, or a place that a reliable source recommended.