Like Autumn and Spring, Engagements are also seasoned. And if you have been waiting for it to tie the knot, it is already here. Be ready with the ring in your hand, because anything can be a sign. But, if you still don't have a ring then you need to be guided. We have a list of
bridal
diamond rings
that are contemporary, trendy and yet timeless. These designs are so beautiful, she will never want to remove it.
Unique Stone Shapes
We know how important a diamond is in a bridal ring. But, choosing a center stone that is shaped differently will make it distinguishable from other rings. Unique stone shapes also enable a band to be designed in different patterns. Cushion cut and pear shaped diamonds are the current favorites. Find out more about the many diamond shapes.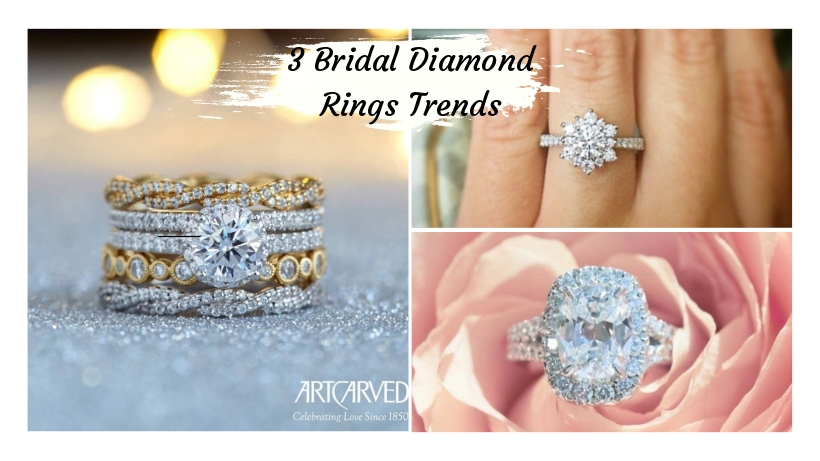 Eternity Bands
A popular fad of
bridal diamond rings
are eternity bands, and we support it. These bands have diamonds that run throughout the circumference of the ring. They are seen as a symbol of promise that you want to share your life with her. Lately, thick bands with single studded diamond in the center are also gaining momentum. Again, here, different shapes of the diamonds will give it different character, each time!
Vintage Floral Settings
Talking about
Bridal
diamond
rings
and not mentioning vintage style is unfair. The ongoing vintage rings are in floral diamond settings which are exquisite looking. These bridal diamond rings are, quite possibly, the only ones which look perfect with any color gemstone. If the woman of your dreams is someone who is expressive and has an unparalleled personality, propose to her with a ring that matches her identity. These rings shall inspire you and brighten her, for sure. Sachs Jewelers, a fine Jewelry Store in Shrewsbury, Massachusetts, curates one of the finest collections of
bridal diamond rings
that are trendy and timeless. You can also visit their website-
http://www.sachsjewelers.com/