As you all must be aware of, diamond engagement rings and authentic varieties of wedding bands form an integral part of bridal jewelry.
Taking you through some of the most astounding styles on Engagement cum wedding bands:
Vintage Styles Engagement Rings
Classic styled engagement rings can have a detailed designing covering the outer rim of the band. You can also choose filigree or floral accents to elevate the formal appearance of an Engagement or a Wedding day ceremony.
Trinity knots have three leaves clasping against one another. A vintage style can also take an archeological designing done across the band.
Pictorial Wedding Bands
In the present era, we are blessed to have sophisticated technology at the digital as well as the fashion jewelry world. Laser inscribed pictorial fonts can be etched with the highest degree of precision, after all. Just select a background portrait. Else you can upload a photo of your choice and have it embedded on to the band.
Statement Rings
For a more casual look, rings made from sterling silver or yellow gold can be chosen. You can engrave a statement that you would love connecting with. And the statement can be a daring one, as well. Stackable rings can also be chosen for the grand occasion.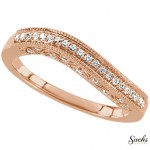 Heart-Warming Messages
These are engraved rings. You can have a heart-warming love message or a romantic alibi, engraved on a classic styled ring. You will need to select plain or straight line rings to have engraved messages done in a neat and hassle-free manner. Stoned rings are not ideal ones. This is simply because, engraving disrupts the careful positioning of stones. These may fall off. The other reason for avoiding engraving on stone rings is this. The letters or the phrases of the message may look distorted.
Personalized Styles
You can also have personalized rings done. With fusion of metals, stones or pearls, custom jewelry can be a pretty looking style to imbibe on your ring designing.
These are 5 authentic styles as to how you can add a new dimension to bridal jewelry.
At Sachs, you choose wedding, anniversary and Engagement bands designed by ethnic jewelry designers. To reach the sprawling jewelry store online, reach out via http://www.sachsjewelers.com/