The name tennis bracelet got its name in the year 1987, during a tennis match. During a tennis match, Chris Evert's diamond bracelet snaps off her wrist. A tennis bracelet has diamonds of the similar cut, color, clarity and size. It can add some sparkle to your everyday life.
Take a Chance at Rocking a Tennis Bracelet
You can wear the bracelet when going out at night and in the morning when going to work. As it is so comfortable, most women can wear it all day long. If you want to wear it regularly, you could get one with a platinum setting, since the metal is scratch proof.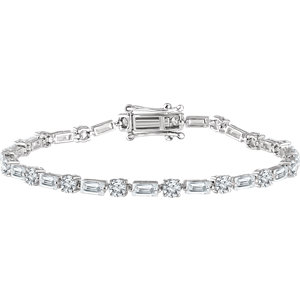 You would want it to be more scratch proof if you are going to be doing these things:
Matching a diamond bracelet with a simple watch has become quite popular. You could even match it with an athletic digital watch.
Wearing with another bracelet
Most people worry about two bracelets worn together as they could scrape against each other. It is the perfect style for an evening out.
When worn alone without any other accessories, the bracelet good.
The Ideal Fit
The loose, comfortable fit is one of the best qualities of the tennis bracelet. When the arm is resting against your side, the bracelet could slide down to where the wrist meets your hand. You may think its loose, but it is a perfect fit and won't fall off your hand. In case you are not sure about the fit, then you can try slipping a finger in the space between the bracelet and your wrist.
If the finger slips in, the fit is perfect, as it should be worn every day. You can wear it to the opera, to the beach, the gym or even on a hike, without worrying about it falling off your hand.
So, go ahead and get your shiny, sparkling Tennis Bracelet of your choice. It is always in style and can be worn with any outfit. If you still have a few doubts, then you can ask the jeweler to show you a few of his collections, to get an idea. You will love the versatile bling.