An Anniversary Ring is a symbol of love & commitment to each other. If you're looking for a great way to commemorate a special anniversary, a ring is an excellent choice. Anniversary rings come in a wide range of styles & designs. Learn how to choose an anniversary ring for your wife or husband.
In the following article by anjolee, shares a complete guide on how to choose Anniversary Rings for your partner.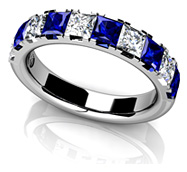 WEDDING & ANNIVERSARY RINGS
An anniversary ring is a sentimental band of beauty that celebrates your union. A diamond anniversary band is a perfect reminder that your future will continue to shine and is a symbol of love and your commitment to each other.
Selecting the perfect ring can be a difficult task. Considering all of the options for ring designs, metal type, diamond quality, and sizes can be a bit intimidating, but Anjolee offers a large variety of high quality anniversary rings and has simplified the process of customizing your own rings in an easy and affordable way. If you need assistance, we are here to help guide you through the process.
See full post here
Browse our selection of anniversary rings for men and women. Find anniversary bands online at Sachs Jewelers.